Exploration and development information construction
Positioning
Exploration and development of information systems for the oilfield construction services, including information provided construction planning, data management and ancillary research software product sales, project custom development, data processing and other services. We have a number of experts in the oil industry information system building, there are fields of external business experts, project managers, software developers, data service staff have many years of oil exploration and development experience in the implementation of software projects and data services projects.
Business Introduction
1. Comprehensive Planning
According to years of practical information construction experience of petroleum industry, the information system of the petroleum industry could be divided into 4 classes: optional database, center database, project database and knowledge database, respectively playing the role of data acquisition, data archiving, data application and knowledge accumulation. The overall technical framework will be designed as the following chart: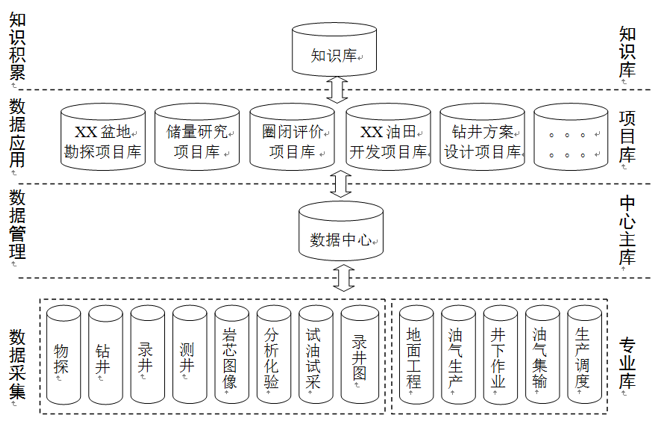 2. Professional Database Construction
According to practical situation, exploration could be divided into the aspects of geophysical prospecting, well drilling, logging, well test and production test, analyzing, and development could be divided into Oil and gas production, downhole operation, ground engineering, oil and gas gathering and production scheduling. GDF is able to construct the information system of the above aspects, which is available in data acquisition, data management, data querying and browsing, data application.
3.  Data Center Construction
Data center contains all the data in oilfield exploration and development businesses. It provides the integrated data management solutions of data archiving, centralized storage , unified release. It is divided into three parts: exploration and development data model, data management software, database interface software. GDF can offer the service of data center construction.
4. Project Database Construction
GDF takes advantage of the advanced graphic technique, combines professional application in petroleum industry with graphics techniques. GDF has constructed many project databases, like exploration planning project database.
5.  Knowledge Database Construction
Knowledge database includes research results of multi oilfields, which would be shared to each other. Knowledge base is a new subject of oil industry application, each department business involving the whole oilfield.
6.  Data Service
GDF could undertake data resource construction projects of Logging curve digitization, log, documentation, reports, electronic digital, exploration, development base number (including the PCEDM).
Major Techniques
1. Microsoft Visual Studio 2008
2. Borland Together Architect 2006
3. Sybase Power Desinger12.5
4. Toad 9/PLSQL Developer 7.0
5. Microsoft Visual Source Safe
6. Oracle 10g/SQL Server 2005
7.Sun Solaris 10/Linux
8. Microsoft Windows 2003/2008
9.GDF GIS/ArcGIS/GoogleEarth